Last week, I received an email that made me very, very happy. It was from ShopBevel, a jewelry website that looks to produce handmade jewelry designers' work. The designer gets exposure and a cut of the profits, and ShopBevel gets to sell your pretties.
In the note, ShopBevel told me Jac & Elsie had a necklace it thought would fit well in a Great Gatsby-themed contest it had going on. The winner, based on votes and their own employees' expertise, would be manufactured by ShopBevel. Throughout the process, designers receive some wonderful shout outs from the website on their various social media platforms, which are substantial — the shop has been in mags like People, Cosmopolitan and Redbook.
The design ShopBevel contacted me about (see picture above) is a simple one, and it stemmed from a custom request order I received a few months ago. A man contacted me through Etsy, interested in my sterling hairdresser necklace. He wanted one necklace with all the available charms, and he wanted something more, too — a pearl, something large, to serve as a focal. His girlfriend had a very vintage taste, he told me, and with that info, I went out in search of something to fit his vision.
I found a number of possibilities, but what struck with him was a large, glass pearl from the 1950s, the pearl you see above. Indeed, on the sterling necklace, it gave the piece an almost old-world elegance and glamor. I was dubious it would all "go," but the finished product was delightful. (I'm a dingbat and did not get photos of it before I mailed him his necklace.)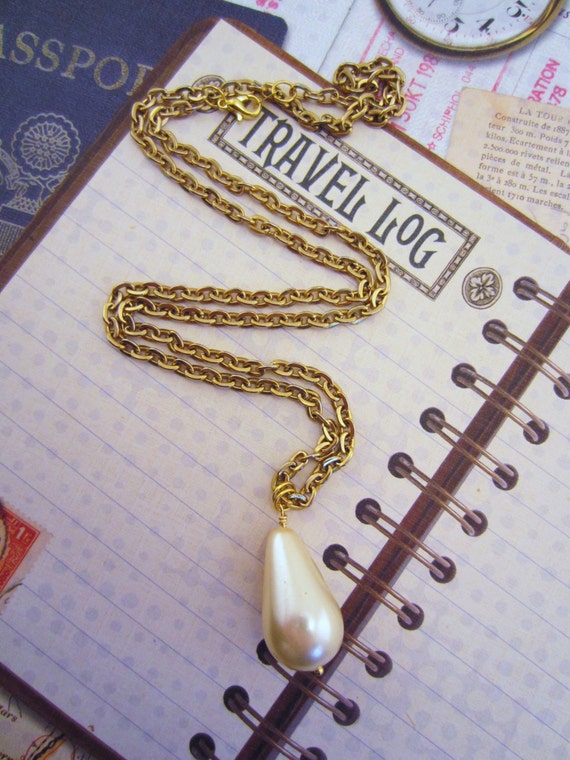 In purchasing the supplies, I purchased a bag full of the pearls. I decided the remainders should stand on their own. I paired them with an extra long vintage gold-toned chain. It's awesome for layering or alone as a statement on its own.
I used a headpin on the pearl that gave it a little metal detail at the base of the pendant. I wire-wrapped it and hung it from a 36-inch vintage chain. I truly adore vintage gold-toned chains — the color and tone of the gold is so much richer and prettier than newer gold-toned chain.
As ShopBevel's rules point out, the winner of the contest is not necessarily the one that gets the most votes, as that can denote that a designer is better at social media than another just as much as it can that a piece will actually be purchased more than others.
All that being said, votes do matter, and if you could show my necklace — which I called Daisy Buchanan's Bijoux — a little love, I would be hugely appreciative!