This weekend was the epitome of relaxing. It was rainy and gray the entire time. On Saturday, I stayed in my pj's until about 4 p.m., when I showered and dressed for two girl friends. We took a mini road trip about 45 minutes north to one of my friend's friend's new restaurant. The food is incredible–and fabulously priced because it's in such a small town–and the bar has more than 100 bourbons.
On Sunday, I woke up and promptly got dressed at least (in black sweat pants and a long-sleeved Donald T-shirt, ahem), but it was a productive day. I studied Jac & Elsie sales last holiday season and spend hundreds of dollars on assuring I'll have enough supplies to get me through this holiday. Last season, I had to make supply buys in the middle of December more than once, and that is not awesome. I'm hoping very much to avoid that happening, but who knows.
I also made some changes to some of my pieces and listings that should make your holiday shopping a little happier:
I switched up my Full of Awesome necklaces. I never was really in love with the former star, and I realized I have two awesome stars in the shop already, as part of my celestial friendship sets. The result is a dainty piece that's adorable alone, perfect for layering and seriously just all-around better. AND you get to choose the color of your star. (Click on any pic for more.) What do you think: Silver or gold?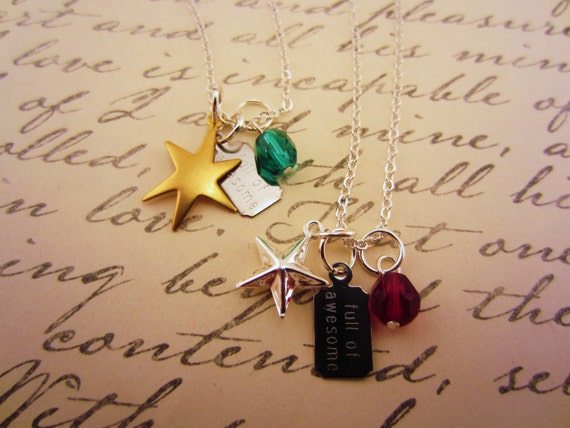 I turned my puzzle piece necklaces into two different listings: Purchase two at once, or purchase one a time. This should make it easier for holiday shoppers to create the perfect number for them. I plan to do something similar for my key and celestial listings, offering listings with two or three necklaces.
In restocking pieces for my infinity necklaces, I found a third option by my supplier. Stay tuned to see a new infinity color added to the set.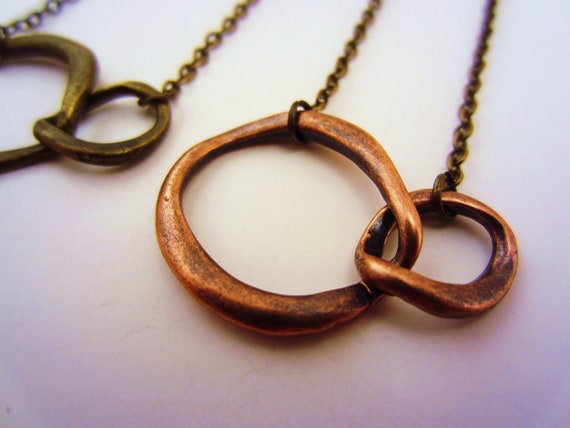 The goal of all this jazz is to make holiday shopping easier, to give folks looking for the perfect gift exactly what they want.
Sometime during all this yesterday, I realized that it didn't seem crazy early to be thinking about this. Christmas, somehow, is in 2 1/2 months (woah, dude). Jeff and I are going to a friend's Halloween party in two weeks, and my brain always has looked at Halloween as the beginning of the holiday season — because you may remember from last year that come Nov. 1, it's all Christmas socks, all the time. (And the collection increased lots since that post — my mother-in-law got me this mondo pack of them with eight or 10 pairs in there for Christmas last year.)
So which camp do you fall in? Are you completely into holiday shopping and gift buying, or are you burying in your bed, all "Say it ain't so!!"?