Earlier this year, I received an email from my friend Kathleen with a request I absolutely had to tackle:
ok so my college roommates and I have nicknames- Kitty, Skittle, and Pan. Would you be able to find (and then make, obviously) a friendship set with those?
OK, a cat … I'm sure I can find this. A pan … well, I've seen rolling pin and muffin tin charms, so I'm sure there's a pan out there somewhere. Now … a Skittle? Well, let's see what I can do.
And I found these: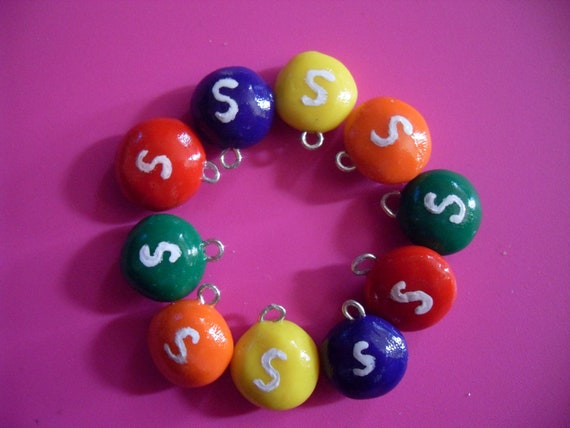 Um … YES.
We chatted back and forth about how to make necklaces from these completely different charms in different colors appear part of the same set. I suggested adding an initial charm to each, which would all be the same font and metal, and using the same chain on each. For some necklaces, it would create a mixed metal look, but I've always been a fan of that.
Turns out, Kathleen is too.
She just posted a pic of the three college roomies in their necklaces, and I'm again feeling absolutely thrilled with how these 100-percent unique necklaces turned out (that's Kathleen in the middle, say hi!)
I really think the best friendship sets are the ones you design:
I came up with the trio that started all the friendship sets for Jac & Elsie, the rock/paper/scissors necklaces, at the request of a friend who couldn't find a rock/paper/scissors set she liked.
I've expanded the cutlery set for a group of women who meet for dinner club, as well as for a production of Beauty and the Beast (because all the cutlery becomes alive–the gal wanted to give everyone the piece he or she played in the production).
One friend wanted each necklace to have a rock, a paper and a scissors charm on it.
Another wanted a ribbon charm with four colored beads to represent a variety of cancers her family members had beat.
It's amazing to me how humbled I feel knowing I've helped someone give that perfect gift. I know what I thrill I feel when I find it, and I'm so happy to know I've helped others find it, too.
And just to throw it out there, I ended up purchasing multiple Skittles charms because, well, look how awesome. If you'd like your own, you can find one here.