This weekend, I had a very successful JC Penney shopping trip. I've always been a fan of the store's bright and trendy (and affordable) work clothing, and this trip marked one of my first sprees there in a while. I found a few staples I'd had my eye on and discovered a few more favorites.
Switching from the cozy sweaters of winter over to my favorite sun dresses has always been exciting for me. I think it goes back to the simple fact that I like change, and swapping warm clothing for warm weather is just an indication that the year is passing, time is moving on … and, at least this year, the dang sun is coming out to play.
Here are some of my favorite trends, some new this season, some not so new.
Harem pants.
OK, hear me out. When I first saw them, I thought … are you kidding me? How can these be flattering on anyone? And yet … they are. I have a bit of a booty, and somehow, these PJ-like pants do not give me Kardashian-like proportions.
The trick was less the pattern and more the material. Some of my favorite pairs I've tried on had absolutely no give. When I sat down, I felt like I'd straight up hulk out of them. And yet when I'd go a size up, the elastic waist bagged, which created something of a soggy diaper effect. Not cute.
I found a cotton-poly blend pair at Penney's and, oh swoon, they fit great. The pattern is a little more muted that the crazy tribal prints I found myself drawn to, but they'll pair well a variety of tops, including the ivory or bright orange I found. Which brings me to my next item of fabulous …
Orange.
I feel like every season, when I get new clothes, they tend to all match each other. As though I choose a color or colors and am drawn to it all season. This past winter, it was straight up black and white. Yesterday, everything in my bag was navy and ivory (see above) with a LOT of orange.
I'm olive complected. Even when I'm reeeealy white, as I am now, my skin is still light caramel-colored, and bright the frack tangerine is lovely on darker skin tones. Case in point, the perfect Lupita Nyong'o.
I'm even finding myself drawn more toward orangey corals in the makeup department. In a recent Birchbox, I received a gorgeous TheBalm lip/cheek stain in coral. I have a variety of coral/orangey lipsticks I adore. Paired with subtle eye makeup, it's such a fresh, springy approach.
Espadrilles.
I had the most glorious pair years and years ago. I threw them out … and I don't remember why. I covet a pair. I want them to have a small wedge heel, and if they tie up around my ankle, all the better.
Summer sweaters.
What is wrong with buildings? When the weather finally is appropriate for shirtsleeves, they up the AC so it's colder inside than it was in the dead of February.
My favorite summer sweater is a gray 3/4-sleeve top with a big daisy on it. It's impossible to be grumpy when there's a giant flower on your chest. I found another a month or two back at Kohl's, but the only one left in my size was snagged. Kohls.com did not disappoint.
Because of the open-weave, I won't wear this with a necklace, so it's a great way to throw up my hair and rock some giant earrings. (Ahem, it's on clearance for $20. Click on the pic to purchase one of the six colors.)
Dainty necklaces.
Giant statement necklaces have been all-the-rage for a while, and I have a few in rotation that I love to pair with a high-necked sweater. For lower-collars, or maybe just in reaction to all the chunk, I've been veering more toward smaller, sweeter necklaces.
To be honest, they've always been my choice over something crazy and huge, but I think part of this current preference is my discovery of a new Favorite necklace: my Mrs. necklace, courtesy of Bijoux By Meg.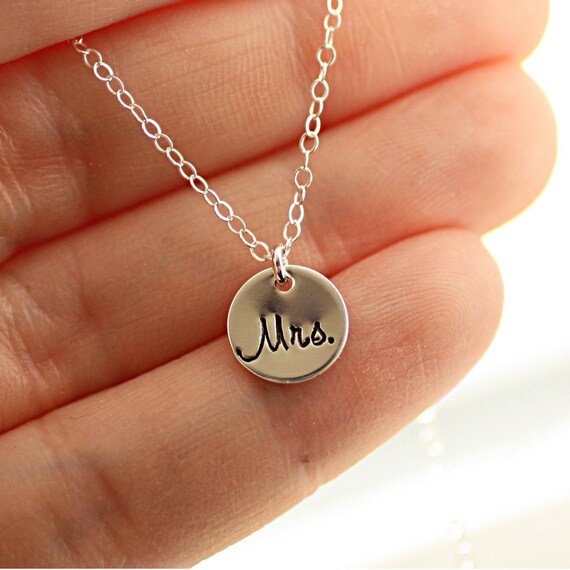 I spied this first shortly before I got married last year, and promptly forgot about it until earlier this year. Meg offers birthstone add-ons, so I opted for the green stone — an emerald — for my wedding anniversary month (May).
I adore this necklace. I love that the chain sparkles, and I love how brilliant and shiny the pendant is. This girl has gotten handstamping down to an art, and her pieces almost look manufactured by machine, they're so pristine and lovely.
Just a few days ago, two more necklaces arrived — a graduation gift and a birthday gift. And I might have to figure out a gold Bijoux by Meg version to find. Because my final favorite trend this summer?
Gold and rose gold.
When I was younger, I remember my mom talking about how silver and gold would become "in" and "out," taking turns being the popular favorite. I never understood how a preference could change — but I do now. I've always loved the pretty pink hue of rose gold, but lately, I've found myself decorating myself with more gold-toned jewelry than silver.
Maybe it's because it goes better with the current colors I'm finding myself drawn to. Gold undoubtedly pairs better with orange than silver does. I adore gold with any shade of blue, especially navy. I still adore my white gold engagement ring, but my slim wedding band is rose gold.
What summertime trends are you finding yourself drawn toward?