(For all those who'd rather open gifts at the beginning of the party, scroll on down for a very special coupon code!)
When I tell a story, I've always liked to look at the numbers. And the numbers of Jac & Elsie tell a story that blows my mind.
1: My very first sale was a custom piece I made for my friend, Angie. She requested a long red and turquoise necklace with funky beads (scroll down the linked page a little to see it), and I was happy to oblige. She would go on to become one of Jac & Elsie's best supporters. Not only has she kept her jewelry box stocked with my jewelry, but she was one of the first models I used for product shots.
21: Number of countries I've sold to. They include Malta, New Zeland, Norway, and Turkey; though after the U.S. and Canada, Jac & Elsie is most popular in Australia. Yes, Jac & Elsie is much more well-traveled than I am.
34: Total number of grown-up friendship sets available in the shop. It all started with the little rock/paper/scissors necklaces a friend requested. She couldn't find one she liked on Etsy, so I put one together. It has changed (scroll down the linked page a little to see it) over the years — from a small glass "rock" to a piece of tiger's eye, from a paper airplane charm to a paper bead — but it's been a Jac & Elsie favorite since the beginning.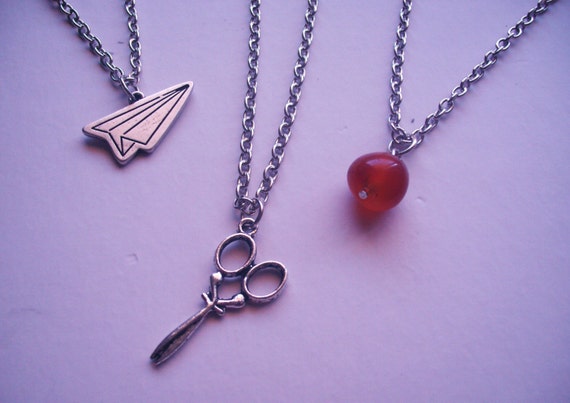 1,758: Number of sales as of 11:21 a.m. eastern time June 1, 2014. It's no where near the sales of some of my favorite shops, but it humbles me.
As I write this, a few days before my five year anniversary, half of my sales occurred from Nov. 30, 2012, to May 21, 2014. That's half of my sales occurring in the last 19 months. Clearly, Jac & Elsie had a slow start. I didn't know what I was doing, and instead of reading all I could and trying to figure it out from those who came before me, I did it all myself. Somewhere in there, I realized what sold and what didn't. I realized that I needed to make a light box. I realized that I needed a better camera (it's still a point-and-shoot, but I'm quite happy with the photos it takes).
And I realized I needed to stick with it. My bestie likes to reminisce about that conversation we had about two years back where I figured I'd shut down Jac & Elsie. This wasn't a convo I was having in anger or frustration. I knew I had fun with the shop, but I also knew it was hardly making me money. I needed to decide if the hobby was worth losing money over. I stuck with it, so obviously, the answer was "yes." Though it's true: Starting out on Etsy can be slow and frustrating, especially in an area as concentrated as jewelry. It's the most crowded section on the site, by far. Right now, searching for the word "jewelry" turns up more than 5.8 million items. That's equal to 
the population of south Florida
.
I can't fathom what will happen or where Jac & Elsie will take me in the next five years. A half a decade sounds like a long, long time, but I'd swear I opened the shop just last year. I wonder what it will look like, if it will still be around. Will friendship sets still be my jam? Will I have regular wholesale orders? Will I get featured in a magazine? I have so many plans to grow and expand Jac & Elsie, but they're slow going because, frankly, I love my shop as it is. As they say: If you don't grow, you're stagnant; but I feel like I'm slowly growing daily. I'm doing better this year than I was last year; Christmas 2013 was better than Christmas 2012.
But at this rate, Jac & Elsie improvements don't overwhelm me and allow me to keep it part-time. I have an 8-to-5, and while I know that I could try to turn Jac & Elsie into a full-time gig, I don't want to do that. It's a size I like, and that's cool–when I started, I told myself, "If I ever sell an average of one thing a day, I will be happy." Removing Christmas from the stats, that's about where my sales fall on average.
This is all to say: THANK YOU to everyone who has ever supported me; who has ever ever supported the shop, either monetarily or through encouragement, which is really worth much more than a necklace set. THANK YOU to every supplier I work with–I've met some really amazing men and women across this country, and globe, through Jac & Elsie, and they are such an integral part of the shop. That's one of the –MANY–things about having a small business that I never expected: the relationships you build.It's a great big world out there, and my little corner of Etsy has made it seem just a little smaller, just a little friendlier for me.
Naturally, it wouldn't be a 5-year-old's birthday without a little gift. As a big THANK YOU, please take 25 percent off your total purchase all week. Use coupon code 14birthday523 to receive 25 percent off your full order! That's one of Jac & Elsie's largest discounts, so be sure to take advantage of it. Buy yourself a favorite treat or, in the spirit of all this thanking, find something you think the favorite lady in your life would love. (Coupon expires Sunday, June 8. Not valid on items in the "fundraiser items" section.)